Programs for Pregnancy
In your community, there may be free group programs for pregnant people. They may offer information, food, and a chance to meet other folks who are expecting. To find out about programs in your community, call your local public health department, or 1-800-267-8097, or visit http:// www.health.gov.on.ca/en/common/system/services/phu/locations.aspx
Childbirth Classes
Your local public health unit, hospital, or health centre may offer pregnancy and childbirth classes. Ask about the costs and what will be taught in the classes. Some classes are free. Others are not. The classes may provide information about a healthy pregnancy, birth, and becoming a parent.
Pregnancy Support Programs
There are many different types of drop-in programs for new parents, and for those who are pregnant. They offer information and time to talk with other pregnant women or new parents. Some provide food. In most cases, they are free.
Support at Home
Some programs provide help in your home. Usually this is free. Aboriginal Healthy Babies Healthy Children helps families so that children have a healthy start. This program offers information to those who are pregnant and new parents. A nurse or lay home visitor may go to your home if you need extra help.
Connecting

In the past, pregnancy was not centered around the individual, it permitted interconnectedness. Other people are responsible for the health and support of the pregnant people too.
Health Care Providers
It is important to see a health care provider regularly during pregnancy. In Ontario, midwives (Aboriginal Midwives or Registered Midwives), family doctors, and obstetricians deliver babies. Nurse practitioners and registered nurses provide prenatal care in some communities. All health care providers help women have healthy and safe pregnancies and births. Your baby may be delivered at home, in a hospital or in a birthing centre.
Consider:
Are they easy to talk to?
Do you feel comfortable?
Do they understand and respect your cultural needs? For example, caring for the placenta after birth?
Do they understand and respect the kind of childbirth you want? For example, you may want a natural childbirth.
Do they listen to you and answer your questions?
Can you get to their office easily?
Will they also deliver your baby?
Will they provide care for your baby?
Midwives
Registered midwives provide care to women who have a healthy pregnancy. Midwives provide support to women during pregnancy, deliver the baby, and provide care to the woman and her baby until 6 weeks or sometimes more after the birth. Some midwives work with doctors or obstetricians for higher risk pregnancies. Midwives deliver in home or hospital. If you want to find a midwife, call early in your pregnancy.
1-866-418-3773
www.ontariomidwives.ca
Aboriginal Midwives
Aboriginal midwives are trained in both western and indigenous approaches to childbirth. Some Aboriginal midwives are also registered midwives.
National Aboriginal Council of Midwives
1-514-807-3668 (choose language then press (6) or
www.indigenousmidwifery.ca
Six Nations of the Grand River Aboriginal Midwives
www.snhs.ca/bcBackground.htm
1-866-446-4922
Nurse Practitioners
Nurse practitioners are registered nurses who have extra training. They provide health care services for women in pregnancy and after the baby is born. They do not deliver babies.
1-800-445-1822
http://npao.org/resources/find-a-nurse-practitioner/
Family Doctors
Family doctors may care for pregnant women and deliver babies. Some family doctors only care for pregnant women but don't deliver babies. Ask your family doctor what type of care they provide.
For help in finding a doctor, contact:
Ontario's Health Care Connect at
1-800-445-1822
www.health.gov.on.ca/en/ms/healthcareconnect/public/
College of Physicians and Surgeons of Ontario at
1-800-268-7096
www.cpso.on.ca/docsearch/
Obstetricians
Obstetricians are trained doctors with a specialty in pregnancy and childbirth. Your family doctor or nurse practitioner can help you find an obstetrician or you can contact Ontario's Health Care Connect at:
1-800-445-1822
www.health.gov.on.ca/en/ms/healthcareconnect/public/
Doula Services
Doulas help women in labour and childbirth. They may also help after the baby is born by coming to your home. Doulas are not trained to provide medical care, or deliver babies.
1-888-788-3662
auntiesontheroad.ca or www.dona.org/contact.php or www.ontariodoulas.org/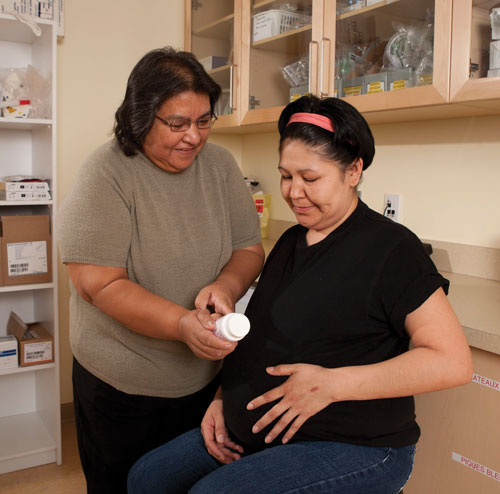 Prenatal Visits
When you see your health care provider during pregnancy, this is called a prenatal visit. This is your pregnancy and you have the right to ask questions. Pregnant people often make a list of questions or topics they would like to talk about. Make an appointment with your health care provider as soon as you know you are pregnant.
Here is a list of things your health care provider might do during a prenatal visit:
Ask about your health before you were pregnant and during your pregnancy.
Give you a physical examination.
Check your weight, blood pressure, and listen to your baby's heart.

Schedule lab tests for your blood and urine.

Measure the growth of your womb (uterus).
Discuss what you can do to have a healthy baby.
Answer your questions.
Schedule an ultrasound.
Discuss genetic testing.
Give you information about programs for pregnant people, partners, and family members.
Talk to you about where you plan to give birth.
Let you know if/when you need to travel to another community to give birth.