Alcohol
People drink alcohol for many different reasons – to socialize, have fun, due to addiction, to try to cope with difficult life problems, etc. Stopping drinking is easy for some but hard for others. It is okay to ask for help. We all want what's best for our children. Deciding not to drink when you are pregnant is best for you and your baby.
Drinking alcohol during pregnancy can cause permanent birth defects and brain injury to unborn babies. No amount of alcohol is safe during pregnancy and there is no safe time to drink during pregnancy. Binge drinking and heavy drinking are especially harmful to unborn babies. It is safest to stop drinking before you get pregnant. Stopping at any time will help your baby.
Strong People

Gather strong people around you so they can pass their strength and knowledge to you.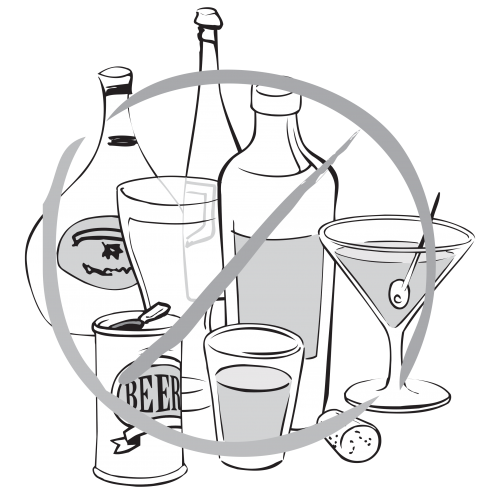 FASD – Fetal Alcohol Spectrum Disorder
This is the term used to describe the types of harm to an unborn baby caused by alcohol use in pregnancy. These disabilities will not disappear as the child grows. They may include:
Difficulty learning and remembering
Difficulty thinking things through
Difficulty focussing on a task
Difficulty getting along with other people, including family members
Difficulty with hearing and with seeing
Problems with bone, arm, leg and finger growth
Slow growth overall
Damage to the heart, kidney and liver
I want to stop but….
For many people, the support of partners, family and friends is all they need to not drink while pregnant. Quitting can be especially hard if you do not have supportive people in your life. Some people need more help in order to stop drinking. Even though they want what's best for their unborn babies, it can be a struggle to avoid alcohol. Remember: You aren't alone and there are places to go for help and support.
Other Substances
Most pregnant women who use harmful substances (such as street drugs, solvents, or prescription medicines that were not meant for them) want to stop or use less. Many of these substances are harmful to you and your unborn baby. It is best to make changes before getting pregnant – but it is never too late to make healthy changes. Talk to family members and service providers that you trust.
Talk to your health care provider about ways to stop or cut back. There are many people, services, and programs to help.
Being Mindful

Think about the things you are putting into your body. Be mindful of your body and the decisions you make.
For information and support
All Addictions Anonymous
Help with any addictive behavior.
1-416-468-8603
www.alladdictionsanonymous.org
Cocaine Anonymous of Southern Ontario
Help to stay free from cocaine and other substances.
1-866-622-4636 (1-866-6-CA-INFO)
www.ca-on.org
Ontario Drug & Alcohol Helpline
Information about services for drug and alcohol use.
1-866-531-2600
www.connexontario.ca