Introduction
This chapter has information about your second trimester (months 4, 5 and 6 of your pregnancy). You may feel less sick and less tired than in the first trimester. This is often a time when you feel comfortable in your pregnancy. Your unborn baby may seem more real to you, as pregnancy now shows, and you feel your baby move.
Second Trimester (4 to 6 months): Your Growing Baby
By the end of the second trimester:
Your baby will be about 36 cm (14 inches) long and weigh about 1 kg (2 pounds).
Her/his/their eyes can open. Eyebrows and  lashes appear.
Your health care provider can help you listen to your baby's heartbeat.
You can feel your baby moving.
You might feel your baby hiccup.
The teeth develop inside the gums.
Soft fine hair is growing on your baby's body.
A white coating, called vernix, begins to cover your baby's body. Vernix protects the skin while submerged in the waters.
Getting to Know Your Unborn Baby
Feeling your baby move and seeing your body change and grow can be very exciting. It may also be scary! Take some time while you are pregnant to get to know your baby.
What you can do:
Talk or sing to your baby.
Play music that you enjoy for your baby.
Read books to your baby.
Think about what your baby may be doing. Sometimes you can tell when your baby moves. Sometimes it can even be seen on the outside!
Think about baby names or having a naming ceremony.
Begin planning for your baby's needs during this time. In some cultures, this happens after the baby is born.
Your partner, other children, family, and friends may also be interested in getting to know your baby!
Start reading about parenting an infant and consider which traditions you would like to incorporate into the early months and years of the child's life. https://resources.beststart.org/product/k67a-taking-care-of-our-children-childrearing-first-nations-workshop/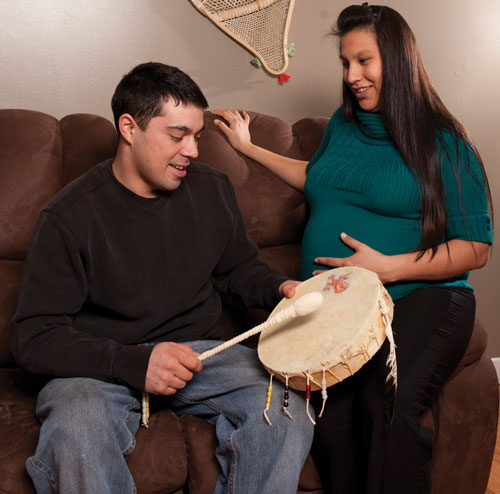 Nurturing Life

A woman is closest to the Creator when she is pregnant. It is when her medicine is most powerful. She sustains and nurtures life completely within her own body. - Mohawk Cultural Teaching

Pregnancy is a ceremony. The ten moons that make up a pregnancy, that whole time the woman is in ceremony. - Anishinaabe Cultural Teaching

All life is sacred. Creator made people who are different for a reason. Two-Spirit people bring their own unique gifts and experiences to their pregnancy journey. - Multiple Indigenous Nations.